Description
Based on a centuries-old astronomical instrument, Theodolite is a cool new multi-function augmented reality app for the iPhone that serves as a compass, GPS, map, zoom camera, rangefinder, and two-axis inclinometer. Theodolite overlays real time information about position, altitude, bearing, and horizontal/vertical inclination on the iPhone's live camera image, like an electronic viewfinder. Uses are endless, and the app is great for hiking, boating, hunting, golf, sports, sightseeing, navigation, and finding your way around. The app is used extensively by surveyors, geologists, architects, engineers, military personnel, and search and rescue workers around the world. Theodolite has been featured numerous times in iTunes in "Rewind 2010: Hot Trends in Apps", "The World Around You", and "New and Noteworthy". It was the #1 selling Navigation app in December 2009 and September 2010.
Theodolite lets you take geo-tagged camera images and screenshots directly from the app, with 2X and 4X digital zoom options, and buffered saves so you can keep shooting. You can choose to stamp geographical data and custom notes directly on the saved image for later reference. View your current position on the built in map view, with standard, satellite, and hybrid modes, compass rose, and bearings. Add and manage custom location markers right on the map.
The flagship of the Theodolite series, Pro includes features for serious users like a reference angle mode, an A-B calculator for height, distance, heading, position, triangulation, and relative angles, data logging, e-mail export with KML data, system-wide clipboard integration, percent grade display, mil compass readout, optical rangefinders (including a mil-based reticle), colored lens filters to improve use in dark conditions and preserve night vision, military grid reference system (MGRS) coordinates, universal transverse Mercator (UTM) coordinates, and four latitude/longitude formats.
Theodolite works on any iPhone and the 4th generation iPod Touch. GPS functionality requires an iPhone 3G, 3GS, 4, or 4S. Compass functionality requires an iPhone 3GS, 4, or 4S. On iPhone 4, iPhone 4S, and iPod 4, data are augmented by the gyro, and the app uses high res artwork for the Retina Display.
Check out the new Theodolite HD for the iPad 2! It includes all the features of Theodolite Pro, with an interface designed specifically for the iPad 2's larger screen.

Description
Firefighter 360 is a new firefighting game specifically developed for the iPhone 3GS using a unique Augmented Reality engine.
In this life-saving fire-person shooter, you play as a firefighter, rather than gunning down enemies, you will have to douse virtual flames spreading very fast in your real environment. As you physically turn around 360 degrees with your iPhone, you have to methodically extinguish the flames you see, thanks to the camera. The fire itself isn't just a static "enemy" to be dealt with. Flames will propagate and spread if you don't put them down completely, the fire itself is capable of doing you harm if you're not careful.

Description
AS SEEN ON GIZMODO, TUAW, BOING BOING, CULT OF MAC, CONSUMER REPORTS, AND WIRED
The best Augmented Reality based car finding application on the iPhone. Use it to find your car anywhere you are. Once you load the application you can use the camera viewfinder to see an overlay of where your car is, the direction it is located and how far away it is. Car Finder allows you to add a note when marking the location of your car and also has a built in parking meter timer. The parking meter timer will send you alerts when your time is about to expire.
Please note: This application uses the camera and compass. An iPhone 3GS or iPhone 4 will be required to use this application. Accuracy of Car Finder greatly depends on the accuracy of your GPS signal.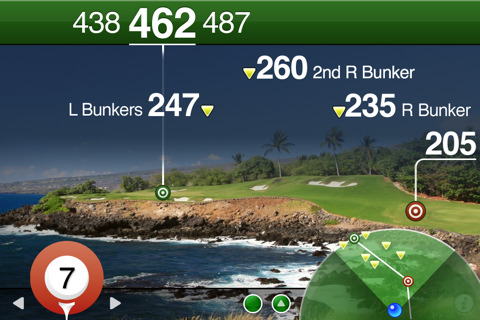 Golfscape GPS RangefinderBy Shotzoom SoftwareView More By This DeveloperOpen iTunes to buy and download apps.
Description
Augmented Reality Rangefinder – An Exciting New Way To View Distances On 35,000+ Golf Courses
NO SUBSCRIPTION OR ANNUAL FEE
FOR iPhone 4 & 3G-S
Continued use of GPS running in the background can dramatically decrease battery life.
GPS Rangefinder with distances to:
• Front, Center and Back of Green
• Up to 40 professionally-mapped targets per hole
• 35,000+ courses worldwide mapped and ready to play!
FEATURES
• Golfscape pinpoints your position on the golf course, allowing you to identify potential hazards, choose your desired landing area and see real 360-degree viewing while on the course.
• GPS Rangefinder with large numbers, front, center and back of green, and up to 40 points per hole
• Position indicators point to each hazard and gives you distance as you hold the iPhone to view your target.
• Assign ideal layup distances for your approach clubs
New course data is loaded for free by Golfshot. View courses at www.golfshot.com/courses
iPod touch users should check out Golfshot, the scorecard and handicap version of the app.
...More
Shotzoom Software Web SiteGolfscape GPS Rangefinder Support
SpyGlass: turns your iPhone into a spyglass. Shows you a compass, GPS info, and much more on the go. Very useful for outdoors.


Description
Spyglass™ - fun as well as useful augmented reality navigation tool that includes a milspec compass, tracker and finder for GPS locations, constant bearings, Sun, Moon and stars, inclinometer, sextant, rangefinder, angular calculator, camera (with 5x zoom), maps and lots of other useful features. Spyglass™ displays all the real time information right over the live camera feed or a map.


Layar Reality Browser - Augmented Reality software
Description
Layar is a mobile platform for discovering information about the world around you. Using Augmented Reality (AR) technology, Layar displays digital information called "layers" into your smartphone's field of vision.